Not being able to be with family for Thanksgiving, we were delighted when we learned that the non-denominational Santiago Community Church has an annual Thanksgiving feast. (I think they also have one for the Canadian Thanksgiving holiday as well.) The Santiago Community Church was formed in the 1970s when the English-speaking Anglican and Presbyterian churches merged because both were having difficulty supporting their ministers.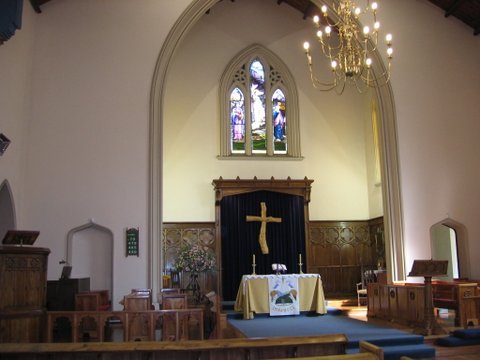 Today the church is a sort of hub for international English speakers – members/attendees include folks from Britain, US, Australia, New Zealand, Holland, even Portugal and Peru, as well as Chileans who grew up in English-speaking homes. It's an active church, complete with a lending (English) library.
This photo shows part of the church's courtyard. This photo doesn't do justice to this beautiful place. The walkway to the courtyard is lined with blooming flowers, and the tree covered (would it be a) pergola is just lovely. Appetizers were served here.
The dinner (with around 100 people) was nice and very well organized. Everyone pitched in to pay for the turkey, mashed potatoes, and pumpkin pie. Then each family brought a salad or side dish to share. There was plenty of food. The evening started with a prayer and song. The turkey, potatoes and gravy were delivered to each table. Then each table (which seated eight) took turns at the buffet line for the potluck portion.
The youth group provided a short history lesson on Thanksgiving celebrations around the world. We sang 4 or so hymns together, and we had a short share time around our respective tables. We each told something that we were thankful for (but we couldn't say family, friends, or food — those were givens.) We sat with a couple from Texas. They've been in Chile about a little less than a year, working with a mining company. Small world: they homeschooled their kids.
Happy Thanksgiving!